*Mike Barner*
NBA Daily Fantasy Basketball Sleepers Lineup Picks for 3/29/18
Thursday is Opening Day for baseball, but there is also still plenty of money to be won in DFS for the night's five-game slate in the NBA. It's key to find the right cheap daily fantasy basketball sleepers to hopefully help create a winning entry. Sign up for our Newsletter and try our Playerlab tool, where you can filter the stats that matter the most and find the value players that are low-owned on FanDuel and DraftKings like Wayne Ellington and Noah Vonleh.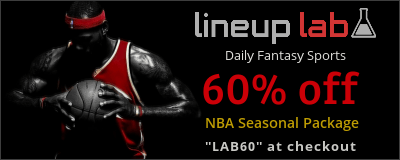 Use Code "LAB60" at checkout for 60% off Seasonal Package<
POINT GUARDS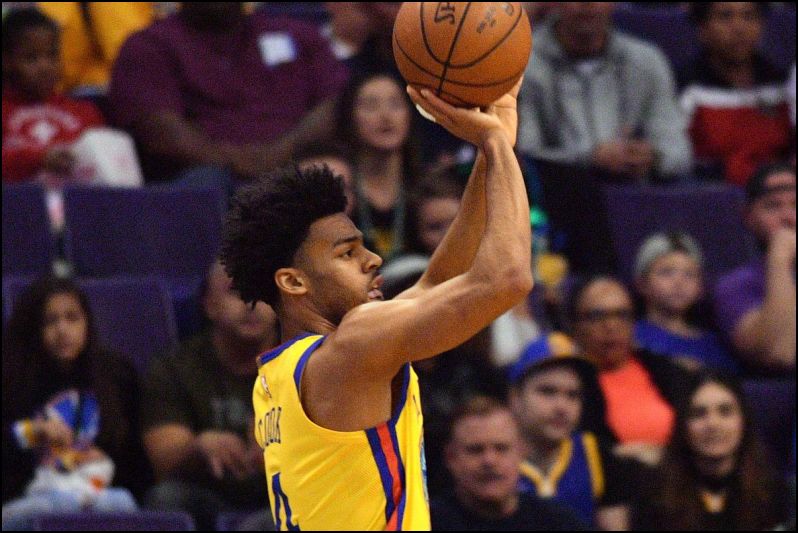 Quinn Cook, GS vs. MIL
FanDuel = $5,700
DraftKings = $6,400
Cook has done an excellent job picking up the slack for all of the injured Warriors, averaging 19 points, 4.8 rebounds, 5.5 assists and 2.5 three-pointers in his last six games. He was heavily involved in the offense, averaging 15.2 shot attempts during that stretch. Stephen Curry (knee) and Klay Thompson (thumb) will be out again Thursday, leaving Quinn with additional playing time once again. However, he might not get as many shots as he has been with Kevin Durant (ribs) and Draymond Green (illness) expected to return. Even if he is less involved, he has a high enough minutes floor that he can still provide value for your entry.
Tyler Johnson, MIA vs. CHI
FanDuel = $4,700
DraftKings = $4,400
Johnson hasn't been consistent offensively of late, scoring eight points or fewer in four of his last six games. However, he scored at least 19 points in both of the other two games. Thursday brings a great matchup against the Bulls, who have allowed an average of 119.6 points in their last five games. His price is the lowest it's been in awhile due to his recent struggles, so now might be the time to capitalize.
SHOOTING GUARDS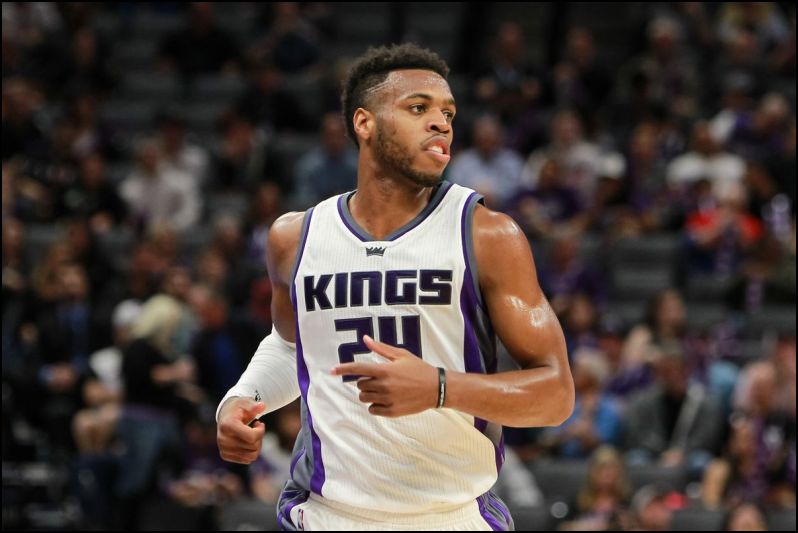 Buddy Hield, SAC vs. IND
FanDuel = $6,200
DraftKings = $5,800
Hield has had his best month of the season in March, averaging 15.6 points, 4.4 rebounds, 2.8 assists, 1.2 steals and 2.4 three-pointers per game. He's also averaged 28 minutes per game this month, which is higher than any previous month this season. The Kings are giving their young players more opportunities down the stretch, so expect Hield to see an expanded role again Thursday. His production outside of scoring is inconsistent, but his offensive upside is still high enough to warrant considering him for your entry.
Wayne Ellington, MIA vs. CHI
FanDuel = $4,200
DraftKings = $4,300
Although the Heat have been thin up front, their backcourt is healthy for the most part. That has resulted in Ellington logging 27 minutes or fewer in four straight games. He's still taking plenty of shots from behind the arc though, attempting 25 three-pointers in those four contests. The Bulls have allowed opponents to shoot 37.1% from behind the arc this season, which is eighth-highest in the league. Ellington might be low owned Thursday, but he could be worth the risk in tournament play.
SMALL FORWARDS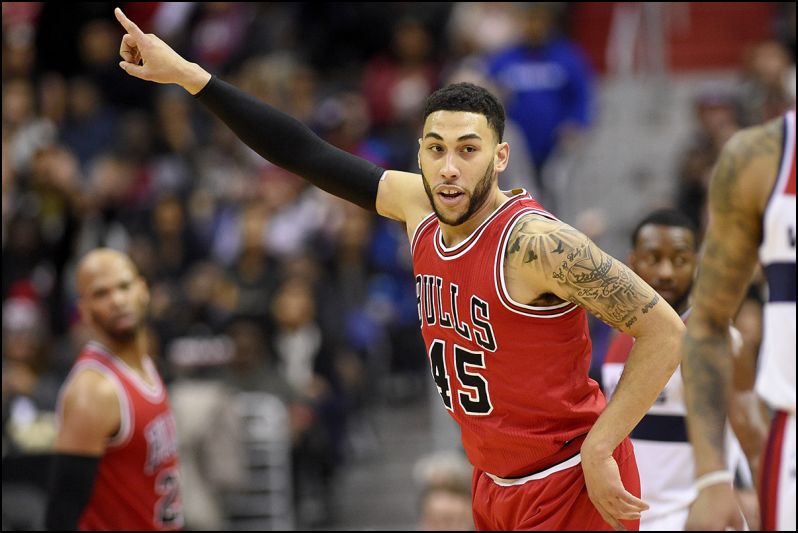 Denzel Valentine, CHI at MIA
FanDuel = $5,300
DraftKings = $6,200
The Bulls should continue to have limited depth in their backcourt Thursday with Kris Dunn (toe) and Zach LaVine (knee) both likely out. Valentine has had some big offensive performances in their absence, scoring at least 18 points in three of his last six games. He continues to fire away from behind the arc, attempting at least seven three-pointers in six of his last seven contests. The Heat are one of the better defensive teams in the league, but with the Bulls missing so many key players up and down their roster, Valentine's increased usage makes him a viable option to consider.
Bojan Bogdanovic, IND at SAC
FanDuel = $4,900
DraftKings = $5,100
After a five-game stretch during the middle of March where Bogdanovic really struggled, he's heated back up by averaging 21 points and 2.7 three-pointers in his last three games. He's even provided value on the boards, grabbing at least six rebounds in two of those three contests. He played well in his first meeting with the Kings this season, scoring 17 points and hitting three three-pointers in only 27 minutes. On a night with so few options, Bogdanovic's offensive upside makes him a strong cost-effective option at small forward.
POWER FORWARDS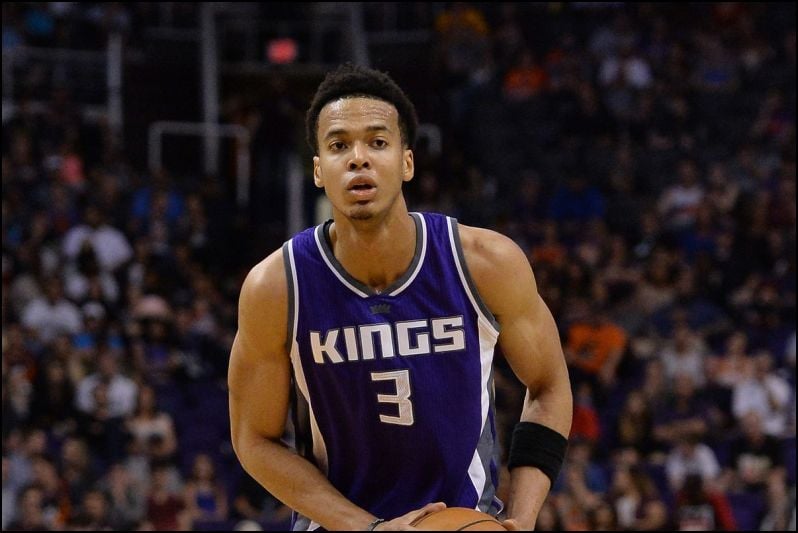 Skal Labissiere, SAC vs. IND
FanDuel = $5,500
DraftKings = $5,200
The Kings have been one of the most frustrating teams when it comes to their rotations this season. No player on the team has averaged more than 28 minutes per game this season, leaving many of them with limited upside. Labissiere is finally starting to see more minutes with the Kings playing for nothing but a high draft pick, logging 30 minutes in each of the last three games. He's taken advantage of the playing time, averaging 14 points, 7.7 rebounds, three assists and 1.3 blocks. His ceiling likely isn't very high against a tough Pacers defense, but he can still provide value at this price.
Noah Vonleh, CHI at MIA
FanDuel =$4,600
DraftKings = $4,700
The Bulls have already been resting Robin Lopez and will now likely be without Cristiano Felicio (back), who is listed as doubtful for Thursday. Vonleh has already played at last 20 minutes in seven straight games, averaging 8.9 points, nine rebounds, and one steal during that stretch. Even if Lopez does start Thursday, he will likely only see limited minutes and not play at all in the second half. Vonleh is not a big offensive threat, but he should still at least approach a double-double Thursday.
CENTERS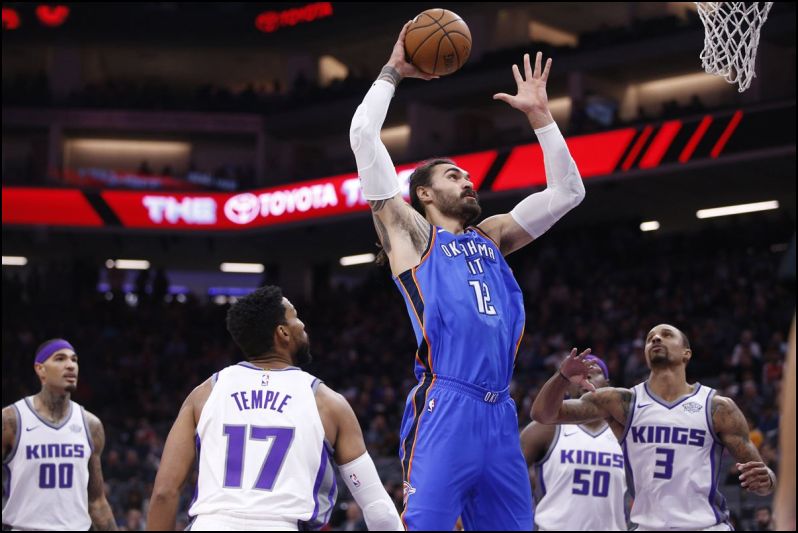 Steven Adams, OKC at SA
FanDuel = $6,900
DraftKings = $6,800
There aren't a lot of great center options Thursday, especially on FanDuel. Adams is certainly not cheap, but you might need to pay up at center to have a winning entry. Adams gets a ton of playing time on a Thunder squad that lacks depth up front, averaging a career-high 33 minutes per game this season. He has posted a double-double in three of his last five games and also scored at least 24 points twice during that same stretch. He should have a high floor again Thursday, even against a tough Spurs defense that allows the fewest points per game (99.4) in the league.
Marcin Gortat, WAS at DET
FanDuel = $4,300
DraftKings = $4,600
Gortat doesn't provide much offense, scoring seven points or fewer in six of his last nine games. He's still been able to contribute on the boards though, grabbing at least seven rebounds in five of his last six contests. He's only averaging 22 minutes per game in March, which severely limits his upside. The Wizards are going to need him to battle with Andre Drummond on Thursday though and Gortat has had some success against the Pistons, averaging 10.7 points, 7.7 rebounds and 1.7 steals in their three previous matchups this season. If you are determined to save money at center, Gortat might be your best bet to get some value.